›

›

›

How to Organize a Pet Party?
4 Answers
This is strange. This is the third time I have attempted to answer this question....here I go again.
In my area we have companies that cater to pet parties. There actually is a company that makes dog and cat birthday cakes. Send out fun invites! ...... Don't forget balloons and streamers.
Plan the party as you would for a child. Include treats for the grown-ups.
Have a ball!
... and remember ... I have two boogly eyed dogs who are very loveable and beyond the beyond cute. They play well with others ... except maybe squirrels.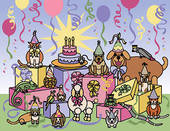 Here is a pet party, I recently held. It's easy really. Invite all the animals and let them loose in your lounge-room or backyard. Have plenty of meat and things that they like to eat. They'll make up their own chasing games. Dogs will chase cats, cats will chase mice and birds...
Top contributors in Dogs category