›

›

›

Which is the best pair of shoes for a nurse?
5 Answers
<header class="entry-header">
Best Nursing Shoes for Women: Find the Most Comfortable Sneakers and Clogs
</header>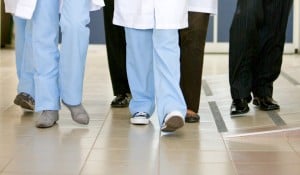 As a nurse, you're constantly on your feet. You need footwear that will give you reliable support for long shifts and longer workweeks! Some pairs on the market are specifically designed for nursing. They're often flogged to nurses as part of a uniform. However, most of those can be cheaply made, unattractive, or not supportive.
Thankfully, you don't have to settle in any of those categories! We've looked around online for the most comfortable nursing shoes which will be practical, fashionable, and professional. After all, your job is to make other people feel comfortable. So you'll want to make sure you feel comfortable and confident first!
We've put together nursing shoe reviews with our own recommendations that we think you will love! These models are popular among your fellow nurses, and span a wide range of looks, functions, and prices. At the bottom of the page, you'll find a list of things to think about while you consider the best footwear for nurses.
First, take a quick look at our current most popular recommendations:
Dansko Women's Professional Patent Clog
Rating: 4.3
Reviews: 1,123
Alegria Paloma






"Highly recommended if you have feet problems!"






Rating: 4.3
Reviews: 727
Skechers Women's Loving Life Memory Foam






"Makes walking pleasurable again!"






Rating: 4.3
Reviews: 560
Best Shoes for Nurses: Full Reviews
These options strike a balance between fashionable and functional, and will help your feet feel better at work. Read on for more of our top picks!
1 Alegria Paloma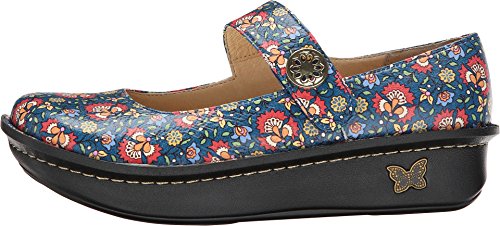 "These are the only pair I will ever work in. They are truly amazing, these will give you twelve hours of nonstop support!"



The Alegria Women's Paloma Flat Mary Jane is a fashionable alternative to classic nurses' sneakers. They come in a variety of colors and patterns, which gives them a bit more flair than other flats. Customers are drawn in by their attractive look, and the fit and comfort keep them coming back for more! We think they're the best option for nurses who want a strong personal style at work.
PROS
The Palomas are made with a stylish leather upper that comes in a variety of designs. Most of the leather finishes are easy to maintain, and look professional but also distinctive. They'll also match nearly any color of scrubs. The Paloma's have one of the best varieties of color and style options on the market!
These use a special leather insole with built-in arch support to provide the structure your foot needs during a long workday. The factory insole is also removable, as this one is designed to work with orthotic inserts. These are a great option for you if you have foot problems, such as plantar fasciitis. You can customize the fit and support on the inside to be exactly what you need. The best part is that you'd never thing these were orthotics from the outside!
We really like the rocker outsole, which supports natural posture and gait much better than traditional soles with sharp edges. The more rounded, natural motion of the stride reduces heel and metatarsal pressure. This means you'll put less strain on your key foot joints as you walk and stand! It really makes a difference over a long shift.
One reviewer wrote:



"I work in a pharmacy and am on my feet for 10 hours+ a day, and these make my feet feel great. Alegria rocker bottom makes walking more comfortable, the arch support is great but not too high, and inside is heavenly soft. I'll keep buying the Paloma as long as they make them!"



CONS
They have a tendency to squeak. One reviewer recommended using a silicone lubricant on the insole.
Some of the finishes hold up better than others. Reviewers said the more glitzy styles were prone to rubbing off after a while. We'd recommend avoiding anything too elaborate, in case you need to clean the upper at some point.
2. Brooks Addiction Walker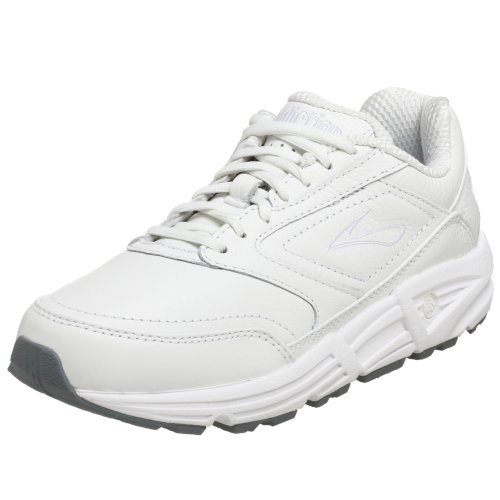 "I am a nurse and work 12hr shifts on a busy med/surg floor. I also have knee problems and had a terrible time finding sneakers that didn't cause my feet and knees to ache after a long day at work…I have had my current pair for a year and a half and will never buy a different brand. I have the mesh Addiction Walkers and wear them for everyday use. My feet are wide and overpronate since my knees turn in. These are perfect for me."



These Brooks are designed for maximum comfort. Recommended by many doctors and physical therapists, they're a great option for people with foot conditions/chronic discomfort. They're our top choice for stability shoes, and we love the customizable insole, which is compatible with nearly any orthotics.
PROS
They provide incredibly supportive cushioning. Many reviewers said that the Addiction Walkers were recommended by their podiatrists. The support comes from a thick sole with layers of rubber and foam under the foot. The built-in, structured insole is also removable for buyers who want to use orthotics.
There's also plenty of cushion along with the structure. The Brooks have one of the thickest soles on the carpet, so there's plenty for your feet to sink into.
They're simple and low-maintenance. Reviewers said they fit true to size. The outsole is slip-resistant, and buyers said that the leather finish is easy to maintain. One reviewer said:



"I have them in white for nursing and love them. Just now ordered in black, so that I don't have to scuff them with everyday wear. These really are just a terrific feel/fit for walking many hours or long distances. I've never had anything better in sneakers."



CONS
They're not much to look at. Between the bulkiness of the sole and the lack of style options, some reviewers found them a bit too practical for their taste. These certainly aren't the best choice for workplaces with formal dress codes, or nurses with a keen eye for style.
They fit snugly, so they won't be very accommodating of heavy socks. If you wear heavy socks or use orthotic insoles, reviewers recommended ordering a half-size up.
3 Timberland Renova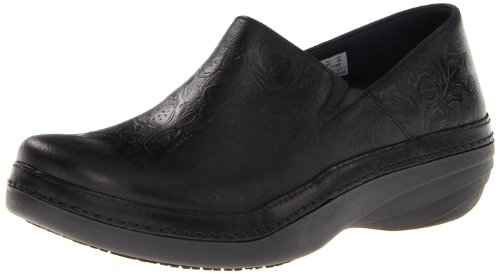 "They are simply the most comfortable pair I have ever owned."



The Renova's are a simple, elegant slip-on with some key industrial reinforcements that make them one of our favorite nursing options. We particularly love the rocker sole, non-slip grip, and special cushioning system.
PROS
These operate on a heel-to-toe rocker sole design. This is topped by a structured insole which provides heel-cupping and strong arch support. One reviewer said, "They encourage a good arch and I feel like they encourage good posture also." Another wrote:



"You will not slip in these. I don't think I could make myself slip if I wanted. They have excellent traction."



The Renovas feature a full-grain leather upper with Scotchgard stain protection. They're also designed to maintain their color over the long term. One working nurse said, "The leather has held up well. I wipe them off after leaving the hospital with an alcohol wipe (which I am sure is not recommended but given the germ alternative) and they still look good. I touch them up with polish if I scuff them too much." This pair is a great option if you will need to clean your footwear frequently.
There's a special cushioning system built into the insole. It uses inverted cones in the foam like springs to soften each step, and bounce energy back from the floor to your foot. Previous buyers said that the Renova's were very supportive, and maintained their comfort level over time. There's also a 30-day comfort guarantee, so you can try them before you commit.
This cushioning system is our favorite feature of the Timberlands because it allows for a style with the clog aesthetic but the feel of a support shoe.
CONS
Some reviewers said the top of them was a tight fit at first, even though they fit comfortably. However, most reviewers found that as they wore in, the leather softened and became more comfortable. "Great once your feet get used to them," but there's definitely a break-in period.
They squeak. As with the Alegrias, some reviewers recommended using lubricant under the insole to solve the noise issue.
4 Skechers Women's Loving Life Memory Foam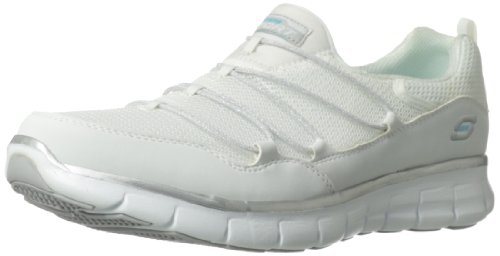 "Best shoes ever! I am on my feet at work bartending & managing a restaurant / bar & have been looking for a very long time for a comfortable pair and finally found them! My feet don't ache after a long day like they used to. I definitely recommend these for anyone who has to have comfy sneakers!!!"



These Skechers are our favorite option for nurses on a budget. They're simple, cushy, and very inexpensive. Plus, they're washable, which makes them a great choice for people who work in messier situations and need something they can clean regularly.
PROS
They fit super comfortably, like a slipper! The mesh upper is breathable and flexible. It's designed to fit and feel like a slipper or sock.
We also love how darn light these shoes are. They're made entirely from foam and mesh fabrics, so they're much lighter and less clunky than clogs or bigger shoes.
The memory foam sole is adaptive and supportive. Memory foam isn't something you'd traditionally find in footwear, but it's been increasingly popular of late. That's because unlike other soles, it'll shape itself to your specific foot shape. One reviewer wrote:



"I'm a psych tech and on my feet 13 hours a day. I tried Nurse Mates, Crocs, orthopedics before these. My feet would ache and I was miserable halfway through my shift. These memory foam shoes saved my feet! I can go all shift without any pain."



There's also a flex-groove outsole underneath the memory foam, which provides traction and flexibility. Another reviewer said, "If you suffer from heel pain, these are for you. I work on my feet for 12-14 hours a day and suffer with plantar fasciitis and most any pair I've worn does not help at all but these really do help! You need these for sheer comfort. The memory foam is ingenious and I'm wondering why no one thought of this before now?"
CONS
A couple reviewers warned about slip-resistance on wet floors. These definitely don't have traction like the Timberlands or Merrells.
They're not formal in appearance.
The upper is very tight on first few wears, but reviewers said they break in nicely. They're very elasticated, which helps out for that first break-on period.
Some reviewers found that these weren't supportive enough for their needs, and that they needed something more structured. Since the memory foam insole doesn't have any particular structure in the arch or heel, these are the best choice for people with no foot issues, who want something fairly neutral.
5. Dansko Women's Professional Patent Clog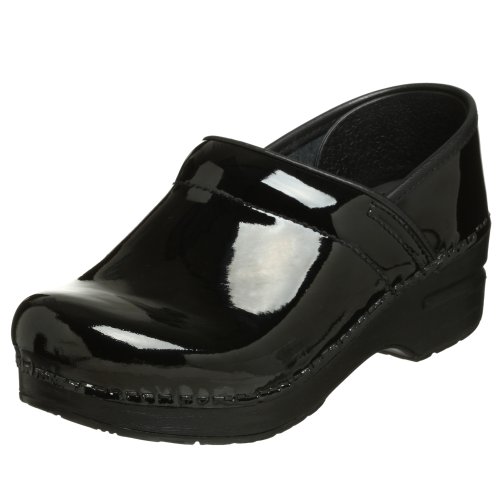 "This is my second pair of Dansko Professional clogs. I am a nurse and wear them for work only. They have saved my feet, legs and back. If you have never worn this style, I would advise you to try them on first at a store to be sure of your size and walk around in them….takes a little getting used to as they are different from regular clogs. Worth the investment. This particular color, Art Palette, is fun and coordinates with lots of colors. Easy to clean too."



Dansko is one of the world's most renowned brands of standing/work shoes, with a high reputation for quality. These are their most popular model. They have Dansko's signature cork insole, and an elegant leather upper perfect for maintaining formal style.
PROS
They're professional, practical, and very fashionable. They are handmade with a leather upper, which comes in a wide range of finishes. There are plenty of options to choose from, with simple black leather, or elegant worked designs for more fashion-conscious nurses.
They're designed for all-day comfort, thanks to Dansko's signature clog style. Built-in arch support promotes good posture and reduces stress. The collar is lined for comfort, which prevents friction. The rocker bottom reduces fatigue and pressure on joints. One reviewer wrote:



"Honestly, I wasn't sure a "clog" was going to be the most comfortable thing to wear while standing all day, but she wanted to try them. Most of the experienced nurses wore a similar style, although not always Dansko. After she visited with other nurses, the overwhelming opinion was that these are worth every penny. They fit true to size, and do not flop around your feet. They aren't snug, but more like fitted ergonomically to the foot. The patent leather is easy to clean (and disinfect = good for the medical field) but look great with just about any scrubs."



The sturdy cork sole might seem a bit counterintuitive. After all, cork is much harder than the foams usually found in insoles. However, the special European insole design has been loved for centuries because it encourages proper posture, and doesn't allow the body to collapse in key stress points (arch, knees, hips, back). Having a shoe which provides real structure helps many nurses work long standing shifts without developing aches and pains.
CONS
Dansko is a European brand, so the sizing is a bit different. Reviewers said they run small. You'll have to order a size and a half up.
Some people don't find them comfortable. That's because they're not particularly cushy. They work by providing a solid, supportive base for good posture, not by providing a pillowy footbed (like the Brooks Walkers, above). This is a matter of preference, so be prepared to test drive these before you decide whether to keep them.
6. Merrell Pro Grip Work Clog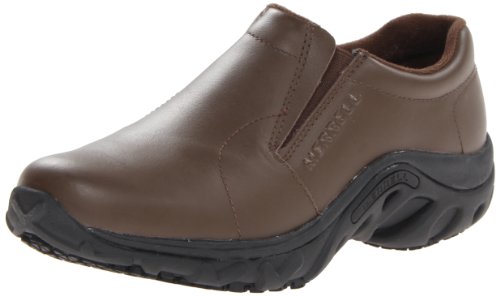 "Totally comfortable, every day. Love them! They keep my feet warm, dry, secure and comfortable. Perfect all around shoes. I'm a cook and on my feet all day in various greasy and wet environments. These stand up to the challenge and my feet don't ache at the end of the day. Highly recommend."



Merrell's shoes are well-known for their comfortable practicality. These Work Clogs are no exception. Their cushioned, have strong traction, and an easily-cleanable outer material. We think they're the best choice for messy, unpredictable workplaces.
PROS
They're very practical. The synthetic upper resists stains and scuffs and is easy to clean and sanitize. The slip-resistant outsole provides traction and sure footing. All these features make them a great choice for the messiest medical settings.
One reviewer wrote,"I love Merrells for work as a nurse in a busy ER. I love that they are easy to slip into during rushed mornings. No laces to come untied during the day. Comfortable as good tennis shoes. Solid leather so I don't have to worry about blood or other disgusting things getting on my feet at work. Good traction so you don't slip on wet floors. The only thing I wish was a little bit better would be more arch support. However, you can remove the liner and put an orthopedic one in."
There's a removable EVA footbed, which can be exchanged for orthotic inserts. The lining is also made of breathable mesh, to reduce sweat and odor. Reviewers said they fit very well. One wrote:



"I absolutely love these. They have excellent support for all day wear. I was a little concerned that having a slip-on wouldn't give me the support I needed in a shoe for work and they would stretch out from slipping them on and off, but that concern went out the window. No breaking in, they have been just as comfortable from day I slipped them on until now, and I have had them for 3 months."



The roomier body means there's more room for orthotic inserts, which can be hard to fit in some tighter shoes (like the Timberlands).
Merrell have an unparalleled record for durability. These shoes are no exception! And since there's hardly any stitching on them, there aren't really any weak points to wear out!
CONS
Some people needed additional inserts, as they weren't cushioned enough for them. These aren't as cushy as some of our other recommendations.
The treads have cracks which are just the right size to pick up little pieces of gravel. When these get stuck, they can scratch floors inside. We wouldn't recommend wearing these on a walk to work, if you'll be going on lots of small gravel or crushed stone.
Buying Guide: How to Choose the Most Comfortable Shoes for You
Comfort
A good pair of women's nursing shoes should be comfortable enough to stand in all day. You'll want a fair amount of cushion, and a well-designed sole, to reduce pressure on your feet and joints. Lots of these shoes have rocker bottoms, which are a rounded shape designed to help you move more naturally from heel to toe, as you would in an athletic shoe.
Others will have foam cushioning, or strong arch support. Try to find the right balance between structure and cushioning. This will be different for everybody, since all feet are shaped differently.
You'll also want to find shoes that will stay cool. Many models have odor-resistant, heat-wicking linings designed to help with this. Shoes with mesh uppers will be the coolest option, but clogs and more open heel designs are also less prone to heat-retention and sweat buildup.
Practicality
In a nursing environment, you'll no doubt come in contact with more than a few things that will require washing. So you'll want a shoe with a surface you can sanitize. Synthetic uppers can take heavier duty cleaners, and are simple to wipe down. Many leather models will also be easy to clean and maintain.
If you're working in a particularly dirty environment, you might want to stay away from fabric or patterned and tooled leather. Some fabric shoes, like the Skechers model we've looked at, are machine-washable. However, no fabric options will be waterproof. It's also important to find non-slip soles. You'll want a decent amount of traction, especially in case of a spill.
Style
You want your nursing shoes to be practical, but it's important to be able to bring a bit of your own personal style to the workplace. Of course, you'll want to coordinate your shoes with your scrubs or uniform. With that said, we've tried to find some options that go beyond the normal scrub shoes and Crocs in terms of stylish but professional appearance.
Our choices have lots of color and style options as well, especially the Alegrias and the Danskos. You know your workplace requirements, so try to find the right balancebetween fashion and professionalism. If you need plainer options, look to the Merrells and the Timberlands for simple, functional design.
Price
Your nursing shoes are your work shoes. They probably won't be shoes that you wear around the house, or out on the town. So, they might not be a big investment for you. Maybe you're the sort of person who wants to be able to replace them easily, in case of a big spill or other workplace hazards.
Then again, if you've got a long workweek, and spend more time at work than at home, these might be your primary shoes after all. It could be worth the investment to get a great pair of nursing shoes. Your price point will depend on your own schedule and lifestyle.
<iframe src="https://www.youtube.com/embed/LBtF1qMZA0A?rel=0" width="640" height="480" frameborder="0" allowfullscreen="allowfullscreen"></iframe>
Conclusions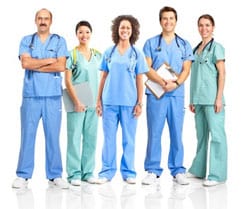 We've covered a range of footwear options. As you've seen, there's quite a variety available. So, which do you choose? The Alegrias and the Danskos are probably the most fashionable. They've also got the most options for styles. The Timberland Renovas are also simple and elegant. They're more cushioned than the Danskos or the Alegrias.
The Brooks and the Merrells are the most practical options. The Brooks shoes are almost guaranteed to be comfortable. However, they're also very utilitarian in appearance. The Merrells are easily cleaned and sanitized, and are reasonably well-cushioned. However, they don't come with many color options. For a lightweight, comfortable option with low replacement cost, check out the Skechers Loving Life. They're washable, cozy, and you won't have to worry about damaging their finish.
If you didn't find what you're looking for, or are interested in more of our picks for the best footwear available, check out our guides to the best walking shoes, running shoes, and shoes for standing all day. We've also got you covered for shoes best suited to plantar fasciitis and flat feet, as well as high arches. Check out all our comfortable shoe reviews at bestwalkingfeet.com. Happy shopping!
http://bestwalkingfeet.com/comfortable-nursing-shoes-for-women/
Top contributors in Women`s Health category