›

›

›

Ted Kennedy and Chappaquiddick..
Ted Kennedy and Chappaquiddick..
I imagine this subject may have been discussed before,,however me and Venny were talking about American Presidents,and Ted Kennedy came up,so we looked on Wiki to find out what it was all about,,and to us it looks like he either murdered her or simply left her to die...Does anybody know more than that..????????>>>>>>>><<<<<<<<..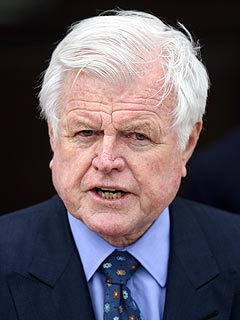 4 Answers
Kennedy was in a place that he shouldn't have been, with a woman with whom he shouldn't have been. He had a car accident likely due to driving drunk. The car, with he and his passenger, slid into a river. The woman died. Do you call that getting away with murder? I think so. The Kennedy family has gotten away with lots of bad behavior over many years and it appears to be their 'normal'.....no consequences for any of it. Why is that? $$$$$$$$$$$$$$$$$$$$$$$$$$$$$$$$$$$$$$$$$$$$$$$$$$$$$
from what i read, they were coming back from a party. it was dark. he went into the water by accident. panicked and left the scene. she died. this family of men were great flirts including the father joe kennedy. he once told his sons to have sex whenever the opportunity came up.
Top contributors in Politics category