›

›

Is it possible to devide a number until you reach infinity,??
4 Answers
How do you reach infinity? Where does the circle start and end, ever tried to figure out a Mobius strip?
edit] To answer your question 'what is a mobius strip: take a strip of paper and twist it one time and connect the ends like the picture below, then place your fingertip on top and drag it all the way around, it will end up on the bottom.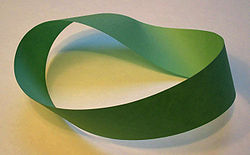 Top contributors in Uncategorized category