›

›

Should we continue to feel bad about our own spelling mistakes and /or irritated by others' after how one of Romney slogans was spelled?: "A Better Amercia."This will be a huge source of jokes, commentaries, cartoons, etc. Here is your chance of posting yours before the big media's
Should we continue to feel bad about our own spelling mistakes and /or irritated by others' after how one of Romney slogans was spelled?: "A Better Amercia."This will be a huge source of jokes, commentaries, cartoons, etc. Here is your chance of posting yours before the big media's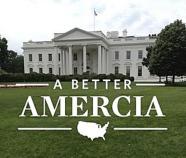 12 Answers
As I've read through our answers, I can't help thinking, "This is the pot calling the kettle black".

Actually, I didn't pick up on the "CIA" actually having meaning. Perhaps the snafu was intentional. However, if I were Romney, I'd have had anyone who touched that bit o' advertising shot by a firing squad (on the hush-hush, of course).
I thought Romney said, " I promise you a BITTER America…" and since America includes north and south of the United States, I thought he was promising war in the Americas. I won't vote for a promise of war. Bush had similar promises that were obviously double-talk and kept his promises too…however twisted about like a cork-screw.
Top contributors in News & Events category