›

›

›

Who is the best president we've ever had in the US?
Who is the best president we've ever had in the US?
Go to this site to see a list.
http://en.wikipedia.org/wiki/List_of_Presidents_of_the_United_States
Also, FYI, a recent USNews survey came up with this list of the best presidents. Obama ranked 15th best. Do you agree with the list?
1. Franklin D. Roosevelt
2. Theodore Roosevelt
3. Abraham Lincoln
4. George Washington
5. Thomas Jefferson
6. James Madison
7. James Monroe
8. Woodrow Wilson
9. Harry Truman
10. Dwight D. Eisenhower
11 Answers
Andrew Johnson
With the Assassination of Lincoln, the Presidency fell upon an old-fashioned southern Jacksonian Democrat of pronounced states' rights views. Although an honest and honorable man, Andrew Johnson was one of the most unfortunate of Presidents. Arrayed against him were the Radical Republicans in Congress, brilliantly led and ruthless in their tactics. Johnson was no match for them.
Born in Raleigh, North Carolina, in 1808, Johnson grew up in poverty. He was apprenticed to a tailor as a boy, but ran away. He opened a tailor shop in Greeneville, Tennessee, married Eliza McCardle, and participated in debates at the local academy.
Entering politics, he became an adept stump speaker, championing the common man and vilifying the plantation aristocracy. As a Member of the House of Representatives and the Senate in the 1840's and '50's, he advocated a homestead bill to provide a free farm for the poor man.
During the secession crisis, Johnson remained in the Senate even when Tennessee seceded, which made him a hero in the North and a traitor in the eyes of most Southerners. In 1862 President Lincoln appointed him Military Governor of Tennessee, and Johnson used the state as a laboratory for reconstruction. In 1864 the Republicans, contending that their National Union Party was for all loyal men, nominated Johnson, a Southerner and a Democrat, for Vice President.
http://www.whitehouse.gov/about/presidents/andrewjohnson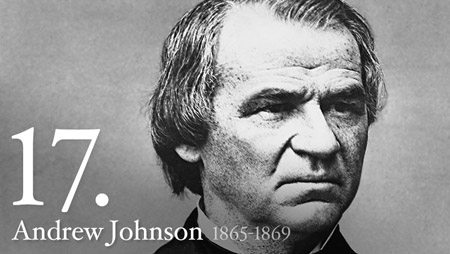 Two of those mentioned, Kennedy, Reagan, as well as Bush who was not mentioned, have one thing in common.
They all had the Congress lower /federal tax RATES and the economy grew rapidly and continuously for years, as a result
The best things FDR did was supply our allies in Europe for three years with the "Lend Lease Program," and finally get us into WWII by goading the Japs into attacking us, or we would all be speaking German today. Unfortunately instead of hitting us in the Philippians, where FDR had MacArthur army, they took out our Pacific Fleet so we could not supply MacArthur
We all loved FDR, I enlisted in the Navy and got of high school in April of 1946 and ended up at Normandy, three days after D day, but history tells us his actions during the Depression did more harm than good, however. Things actually got worse, not better, until WWII.
Top contributors in Government category